Valka Municipality
Identification of risks and adaptation measures in Valka municipality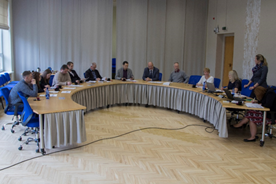 In order to discuss and evaluate the risks and preventive measures for Valka, a group of local specialists were gathered in Valka Municipality Council to attend a meeting on 8th of September, 2017.  Representatives from various fields were invited – health and welfare, construction, tourism, civil protection and work safety, county planning and development, as well as management.
Goal of the meeting was to exchange information in various fields of expertise and how the latter can be affected by climate change, and what kind of adaptive measures are required and can be implemented. Two methods were employed: (1) discussion, where all identified risks were analysed and main risks were identified; (2) written survey that was filled in individually.
Five climate change risks of Valka municipality were determined and prioritized based on discussion and survey results:
Healthcare/public health sector
Chronic diseases flare (CVD, diabetes etc.) and increase in death rate
Acquired endemic state and/or increase in diseases caused by insect-born infections
Construction and infrastructure planning sector
Increase of storm-caused rooftop damage
Electrical transmission network damage due to wind gusts
Road damage risk due to rainfall caused flooding
Local experts pointed out the following climate change adaptation activities that could be implemented:
For healthcare and welfare:
Informative seminars
Raising awareness
Educating medical personnel and social workers
For construction and infrastructure planning:
Sewage system maintenance and upgrade to required level - in the case of heavy rainfall, it's not sufficient to pump large volumes of water; an increase in capacity is required.
Guidance project to optimize rainwater drainage systems
Inspection of canal locks on river Pedele (Selija street) to assess its operational state.
Maintaining power lines; ensuring alternative supply
Tree removal around power lines to prevent wind-caused disruptions
Exploring alternative energy sources
In addition, an activity was suggested for a risk that was not rated as priority, but is also significant:
Herd grazing in hogweed spread territories, mowing, chemical control (herbicides) to manage the generalist species spreading and replacing the specialist species.
The identified adaptation activities are partially in line with the national research, but in this case the focus is on those activities which can be carried out locally. For example, adjusting legislation or adapting the measurement, prediction or early warning system is also relevant, but taken into account the size of Latvia and Valka, these measures should be implemented at a national level.
Till the end of year 2018, Valka Municipality Council plans to summarize all information about climate change risks, vulnerabilities and adaptation action. The result are the Local Climate Adaption Strategy and the Monitoring and Evaluation System of Local Climate and Adaptation Strategy. Valka Municipality Council already started to implement mentioned climate change adaption activities. On 8th December, 2017 the first Training about risks and adaptation to climate change in public health and well-being was carried out. During the training representatives from educational institutions were informed about the identified risks in the public health and well-being sector with special focus on tick-borne diseases and virus infection diseases, including discussion about prevention and mitigation measures. Valka Municipality Council plans to organize also other trainings and informative seminars about climate change risks and activities in other sectors and with different target groups.